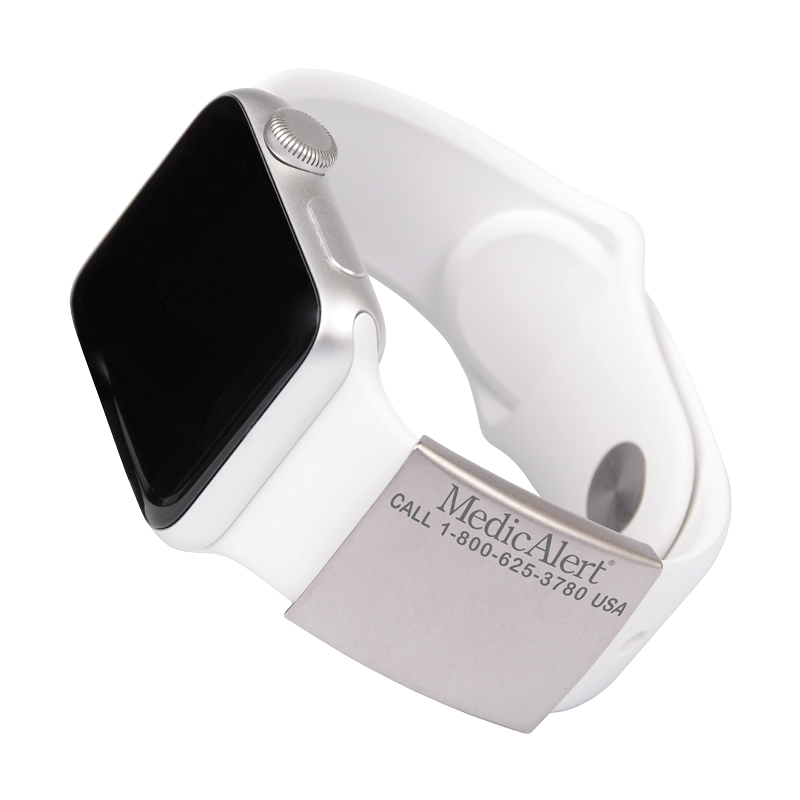 Medical ID for Apple Watch 42mm, 44mm Silver
Description
Description
Always evolving our style and technology, MedicAlert introduces our Medical ID for Apple Watch. Made from rust-proof stainless steel, this Medical ID has been engineered to easily slide right onto your existing Apple Watch silicone band. Once attached, it stays securely in place. Made for an active person who is never far from their tech, the Apple Watch Medical ID is durable and waterproof. Available in silver tone or black to match your watch band and your unique style. For a snug fit, please see below to confirm which size fits your Apple Watch.
42mm, 44mm version fits:
Series 1, 2, 3, (42mm), and Series 4, 5, 6, SE, (44mm) and Series 7, 8, (45mm) and Series Ultra (49mm) Apple watches
If your Apple Watch isn't listed above, go to our 38mm, 40mm version here.
Who should wear an Apple Watch Medical ID?
This convenient and portable style is perfect for wearable tech lovers whose smartwatch is a part of their everyday lives. If your chronic medical condition or allergy doesn't slow down your active or outdoors lifestyle, you'll want this ID along on all your adventures. MedicAlert's 24/7 emergency response services are the natural choice to complement these lifesaving features.
What information should I engrave on my Medical ID for Apple Watch?
The custom engraving on your Medical ID for Apple Watch should include any allergies, medical conditions, medications, implanted devices, or other medical information that needs to be communicated to first responders. The information engraved on your medical ID is the critical medical information that can protect and save your life if you are in an accident or have a medical emergency. MedicAlert offers free custom engraving on all medical IDs.
---
Specifications
Specifications
Medical ID material: Stainless Steel
Medical ID size:
42mm, 44mm: Measures 24mm W x 28mm H
Engraving lines on front of ID:
42mm, 44mm: 5 lines with 18 characters per line
---