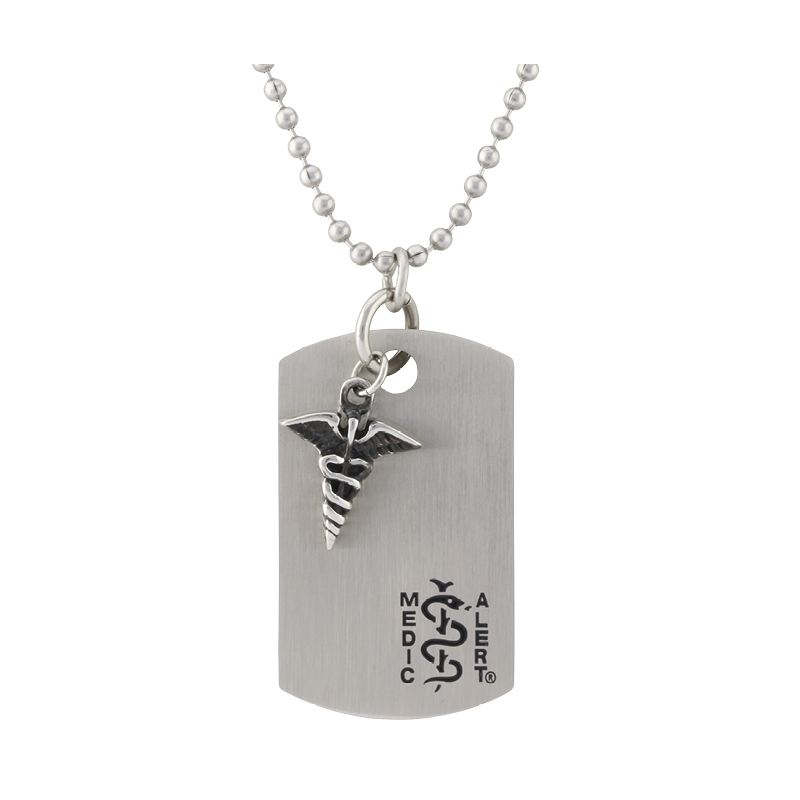 Dog Tag Charm Medical ID Necklace Stainless Steel
Description
Description
This military-style ID is a fresh alternative to our classic emblem styles while still providing the recognition and protection MedicAlert is known for. A miniature Rod of Asclepius charm – MedicAlert's globally-recognized insignia – and dog tag dangle from a 30" stainless steel beaded neck chain that slips on easily for comfort and visibility.
Who should wear this style of Dog Tag ID Necklace?
If you have a chronic medical condition or severe allergy, these Medical Dog Tags provide first responders with important health and personal information during emergencies. This attractive and functional necklace ID is essential for anyone living with cardiac conditions, diabetes, allergies, autism, Alzheimer's or dementia, and other medical conditions. The 30" beaded chain is easy to put on, making it a perfect choice for those with limited dexterity.
What information should be engraved on my Dog Tag ID Necklace?
MedicAlert offers free custom engraving on all our medical ID products. The engraving should include any critical medical information that can protect and save your life if you are in an accident or have a medical emergency, including: allergies, medical conditions, medications, implanted devices, or other medical information that needs to be communicated to first responders.
---
Specifications
Specifications
Medical ID material: Stainless Steel

Medical ID size: 1 ½" X 1"

Stainless Steel Beaded Neck Chain, 30"

Engraving: 7 lines

WARNING: Choking hazard. Not intended for children 12 & under.
---